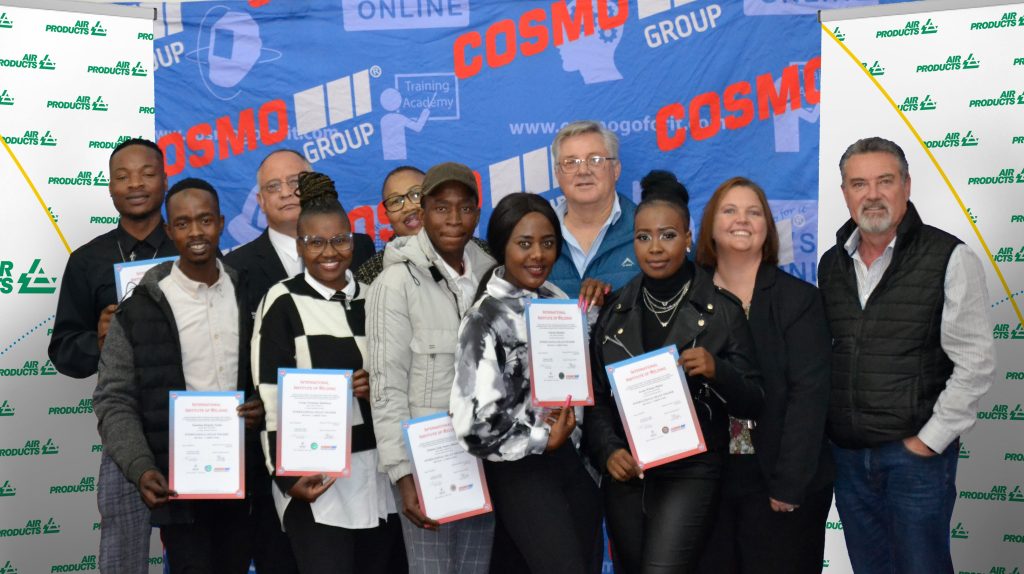 Back L – R: Silence Mashaba, Sean Young (Air Products), Zodwa Tomile (Air Products), Pierre van Nieuwenhuizen, Rozanne Heroin and Rossouw van der Merwe (Cosmo Group). Front L – R: Kingsley Nyatlo, Lesego Mahlanya, Tshiamo Mmutle, Gertrude Khubeka and Lerato Malepe.
As an industrial gas manufacturer, Air Products is reliant on the skills and knowledge of engineers and technicians, but most importantly that of artisans throughout their operations. Within the business, there is a strong focus on skills development, especially with regards to the growth of technical skills such as welding.
In an effort to contribute to the upliftment of welding skills in the country, Air Products committed to provide funding for internationally accredited welding courses. The Cosmo Training Academy was selected as the training facility. The initial group consisted of 20 students, and after various assessments and practical tests, six apprentices were selected. 
According to Sean Young, Welding Specialist at Air Products, and the facilitator of this project, all six of the students recently completed the course and have all shown tremendous potential. He further mentions that the second group of students are scheduled to start their assessments. 
"We have selected the Cosmo Training Academy as our training partner. The Cosmo Group forms an important part of our distributor network and more importantly, we have confidence in their course and the academy. To top it all, the Welding Facilitator/Trainer, Rozanne Heroin, was recently named the winner of the #JouYster competition by Solidarity. This award is given to the top artisan in the Solidarity network".
Pierre van Nieuwenhuizen from the Cosmo Group mentions that they appreciate Air Products' drive to improve welding skills in the industry.
"The Cosmo Training Academy aims to provide world-class accredited welding training as we are aware of the need for skilled welders in the industry, and in South Africa. As an accredited Air Products distributor, we have received support from them from the onset and we are excited about the future of these apprentices". 
For more information on Air Products, visit www.airproducts.co.za.