9 June 2023 – Air Products South Africa highlighted their focus on contributing to a low carbon future, their ability to combine technology and distribution capabilities to provide a secure supply of gases for the reactant replenishment of the fuel cells on a Portuguese Navy submarine which arrived in Cape Town earlier this week. The project was planned and executed in conjunction with Air Products' German counterparts who have been supplying the Portuguese Navy with gases for the submarine. The replenishment of the submarine coincided with the President of Portugal, Rebelo de Sousa's, state visit to South Africa this week.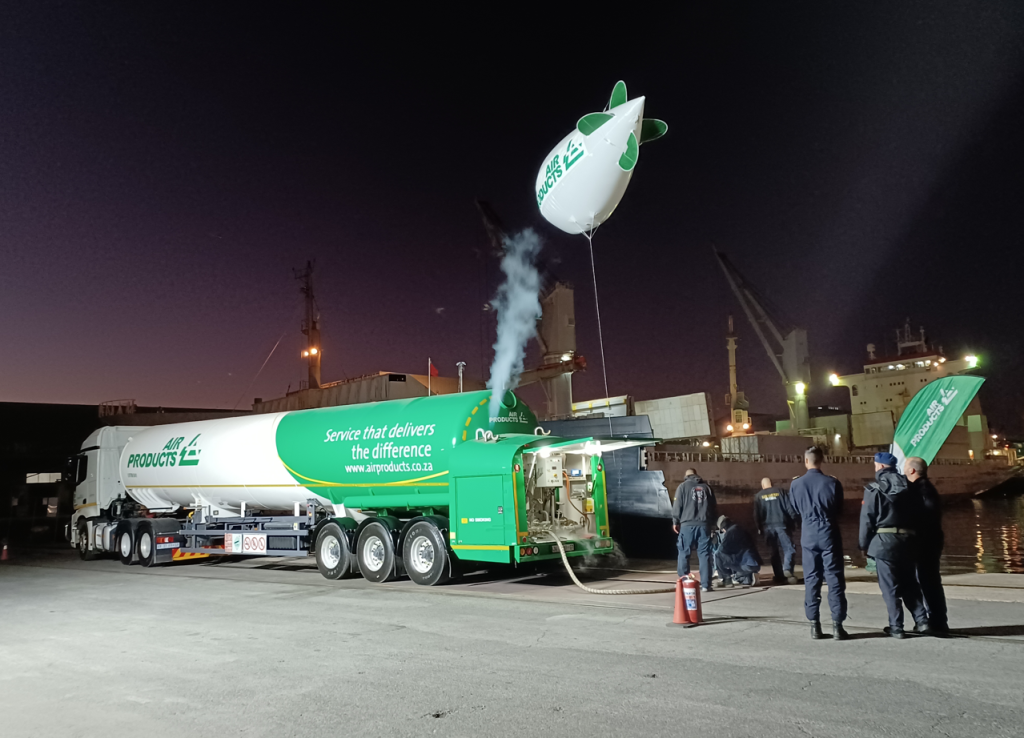 The Portuguese submarine arrived to ensure the protection of the President of Portugal who met with President Cyril Ramaphosa and members of the Portuguese community this week and was further aimed at improving relations between Portugal and South Africa.
Globally, Air Products has established itself as a leader in hydrogen innovation, and as a result, Air Products South Africa is strategically investing in resources to enable a secure and sustainable hydrogen supply network for the future. To date, Air Products South Africa has been involved in numerous hydrogen projects and is aligning themselves for further involvement and growth in this area by strategically allocating resources towards their hydrogen distribution supply capabilities.
According to Arthi Govender, Marketing and Communications Executive at Air Products South Africa, they were able to supply the Portuguese Navy submarine with reactants for the fuel cell, which consisted of hydrogen tube trailers, nitrogen packs, bulk liquid medical oxygen and argon cylinders through a concerted effort between the company's facility in Cape Town and the production facility in Gauteng. Govender further mentions: "The team from Air Products Germany has been key to this project as they were the main point of contact between Air Products South Africa and the Portuguese Navy. We are fortunate to have the opportunity to work with our German counterparts who have been exposed to hydrogen projects of this nature. Not only do they have access to the latest equipment and technology in this field, but they are also extremely knowledgeable when it comes to hydrogen applications. We have certainly learnt a lot from this team".
According to Govender, different modes of supply were utilized to supply the gases required by the Navy. "We had to coordinate the arrival of the liquid medical oxygen via bulk tanker, nitrogen cylinder packs and the hydrogen via our new hydrogen trailers on schedule as requested by the Navy. I am fortunate to report that I work with a capable team whose precise planning came to fruition".
She concludes by saying that Air Products South Africa supports Air Products' global focus and strategy on the use of hydrogen applications in different industries.